Great interpreting!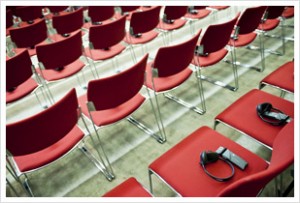 You have an important meeting with one of your international business partners, but you don't have a thorough command of their language. Or you have to attend an international gathering, meeting or conference but you do not feel comfortable going as you have not mastered the language to perfection. In these situations, you can rely on the expertise and efficiency of ABBT. She interprets and translates without losing track of any cultural difference involved. Annemarie Bult has an extensive track record and her passion for languages and natural inquisitiveness in wanting to know everything about the subject ensure good quality and service.
ABBT has interpreted for:
Congresses
Meetings
Courts
Notary publics
Lawyers and mediators
Annemarie Bult is a sworn interpreter and meets the Dutch quality standards. She received her Master of Arts from the HUBrussel with Cum Laude in the field of interpreting in Dutch, English and Spanish. Since then she has gained much experience interpreting for the Dutch Government as well as the business community.
Would you like to know more about interpreting techniques and ABBT's added value? Please contact her for more information, free of obligations.